Non-Food Inventory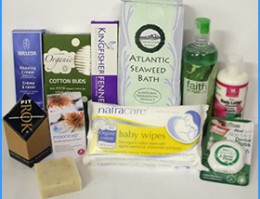 DONATING IN BULK: 3 DAYS FROM CONTACT TO CLEARANCE!
We have many instances of this, as an example, we'll use a long time donor.  ( According to the feedback of our donors- the REASON the donation process works easily is that we work hard to make it easy! )
EXAMPLE: ESTABLISHED MANUFACTURER WHICH CREATES A VERY WIDELY USED UNIVERSAL PRODUCTs: Non-Food Inventory Donations.
How The Donation Process works at Waste to Charity:
1. Identify items, packaging, quantity and possible outlets.
2. Determine logistics: Is the donor able to truck the item to our spacious warehouse in Florida, or do we need to arrange one of our partner organizations to INVEST precious transportation dollars.
3. Prepare paperwork, schedule pickups- account for all items.
4. DOCUMENT the donation- The IRS requires us to document the product donations ( In Kind Inventory or " In-Kind " inventories donation ). We prepare a donation form prior to pickup, provide copies of the shipping documentation, and then send each donor a receipt for use in the taxes.
( Copies of our "Donation Form", Examples of Shipping Manifests, Bills of Lading, Our Donation Receipt forms, and completed IRS 8283 Forms can be found HERE , although this is redundant- when you work with us- you'll be receiving a custom version of each )
8283 form IRS Noncash Charitable Contributions Form for In-Kind giving provided by WastetoCharity.org
According to the feedback of our donors- the REASON the donation process works easily is that we work hard to make it easy!
Just like any other part of business: It is the fabric of Relationships which allow Inventory to move-
All inventory managers and purchasing agents might agree with us on one point: and that is, the more you know about the PEOPLE and PROCESS of any partner, the easier it is to make things happen.
When we are first contacted by a company, we move quickly to understand what they do, how they do it, and why they are willing to bequeath ( donate ) these assets to us.
Sometimes, it's a company experiencing growth- not enough warehouse space to house non-food items, and simultaneasouly bring in the new.
Sometimes, it's precisely the opposite, a company on the downturn, or worse yet, closing- the assets have not been selling at the target price, and the company is cutting their losses: holding on to a few truckloads of last season's wares simply doesn't make sense: donation becomes attractive on both a moral and practical basis.
Donors we are familiar with often receive 72 hour service- and most of them are unlikely to be reading this paragraph: they have known us so long a system of sorts has been set up , and since they have had a number of years of experience with us, donation becomes just one more job aspect: and as such the managers give the order " We think it's time to clear out the warehouse- go call Waste to Charity to set up a truck". Of course we are nopt privvy to all that goes on with out donors- we are merely giving examples of what we have read and heard during our experience.
Waste to Charity has successfully been accepting donations, and providing quality products to those in need around the world for the past five years. We dedicate our time, energy and resources to helping the under served population by soliciting donations from both corporate America and individuals alike and redistributing them to those in need. We are a non-profit organization whose goal is to make a difference in the world by partnering with both business and individual members.
Acceptable inventory donations range from excess, obsolete and end-of-the-season merchandise.
Having a surplus of assets is an issue that affects just about every company in the after-market. This surplus or excess inventory takes up valuable warehouse space and can create various hidden expenses, such as insurance, maintenance, depreciation and even taxes. Organizations who donate merchandise to Waste to Charity can clear
out warehouse and retail space, earn federal income tax deductions and avoid liquidation nightmares.