Medicine Needed to Save Lives NOW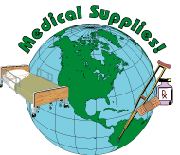 Can you imagine the FRUSTRATION OF A PARENT who can't ease a child's fever?
Purpose: To provide basic medical furniture and supplies to hospitals and health clinics in impoverished areas of the world, increasing the quality of healthcare to the poor.
Products We've Donated: Bandages, ointments, sutures, medical instruments, rubber gloves, gauze, braces, crutches, Medicines, hospital beds, Vitamins, hospital garments, drapes and linens.